What Is a Heel to Toe Drop?
Tuesday, 21 September 2021 00:00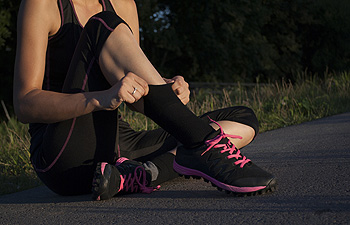 While searching for the right running shoe, you may have come across the term "heel to toe drop," but what does this mean? The heel to toe drop is the difference in height between the heel and forefoot area of the running shoes. This is measured in millimeters. Shoes are divided into four categories based on the size of the heel to toe drop. There is zero drop (0mm), low drop (1-4mm), mid drop (5-8mm), and high drop (8+mm). The most common heel drop in standard running shoes measures about 10mm. The heel to toe drop can affect your gait, foot strike pattern, and running form, so it may be beneficial to select shoes that compliment or compensate for your gait and any foot or ankle issues that you may have. A podiatrist can examine your feet for any issues and perform a gait analysis to help determine what kind of running shoes would be best for you.
If you are a runner, wearing the right running shoe is essential. For more information, contact Dr. Randy Garr from Utah. Our doctor can provide the care you need to keep you pain-free and on your feet.
Choosing the Right Running Shoe for Your Foot Type
To increase performance and avoid the risk of injury, it is important to choose the right running shoe based on your foot type. The general design of running shoes revolves around pronation, which is how the ankle rolls from outside to inside when the foot strikes the ground.
Neutral runners are able to choose from a wide variety of shoes, including minimalist shoes or even going barefoot.
Runners who overpronate, or experience an over-abundance of ankle rolling, should choose shoes that provide extra motion control and stability.
Runners who underpronate, or supinate, have feet that have high arches and lack flexibility, preventing shock absorption. They require shoes with more flexibility and cushion.
If you have any questions please feel free to contact one of our offices located in Provo and Spanish Fork, UT . We offer the newest diagnostic and treatment technologies for all your foot and ankle needs.
Read more about Choosing the Right Running Shoe for Your Foot Type